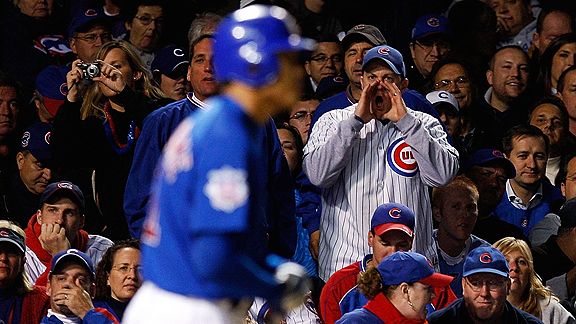 The Cubs currently bare no resemblance to the 2008 Cub team that won the division and garnered the best record in the NL. They do, however, look a lot like the team that showed up in the 2008 (and 2007) playoffs. And I propose that it's a good thing.
Yesterday's game was frustrating, but there was plenty of bad luck raining down on the Cubbies (most notably, the strike that ended it all). The last three games have really been a world of their own, because the Cubs have looked like a team that usually scores runs but by some fluke got held down. For most of the year, they have had a couple of innings each game in which they stage rallies that go nowhere. But in these last few games, the Cubs have had runners on in decent scoring opportunities almost every single inning.
Now you can react to that in many different ways. Obviously you can get even more frustrated because their failure with RISP is even more pronounced and prolific. I'll give you that.
But I choose to look at it another way. Prior to this stretch, I thought it was useless to complain about their efforts with RISP because their efforts
without
RISP were pretty much equally abysmal. But now you can isolate and evaluate the problem. There is definitely a mental shift in the Cubs' approach with RISP. They're trying too hard.
If you'll remember, that was exactly their problem in the playoffs. Guys were trying to win the series with one swing, one pitch, one fielding play. They need to trust in their abilities and their teammates and just take what the pitchers/defenses are giving them and hit the ball. Not to the moon, just hard somewhere.
At the season's start, the Cubs just looked plain impotent on offense. They seem to have overcome the complete funk and have now entered into an acute, RISP-only phase of suckiness, and I think that's an easier problem to fix. I'm telling you, if the Cubs get over this mental block, I truly believe it will be a lesson they can take far into the postseason.