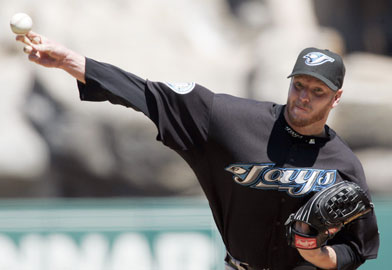 Roy Halladay is a stud. The Cubs now need pitching help after
Ryan Dempster broke his big toe
celebrating a Cubs victory (yes, I am going to make a
thrill of victory, agony of de-feet
joke, albeit parenthetical). The Toronto
Blue Jays are shopping Roy Halladay
.
Naturally, this has sent the wheels into motion here in the home offices of TUTR (Totally Unrealistic Trade Rumors). Here's what
my sources
have uncovered:
Jim Hendry and J. P. Ricciardi are close to a deal that would bring Roy Halladay to the Friendly Confines. The deal wouldn't be without its cost to the Cubs.
People close to the negotiations
say the Cubs may be willing to part with utility infielder Aaron Miles and cash considerations. Miles's inability to recover from a seemingly minor injury and proven lack of big-league power make him Major League Baseball's last rock-solid example of a player who is completely beyond the realm of reckless PED speculation. The Cubs, nay, the country, are afraid to lose their sole untainted insurance policy.
I say, let's take that chance.