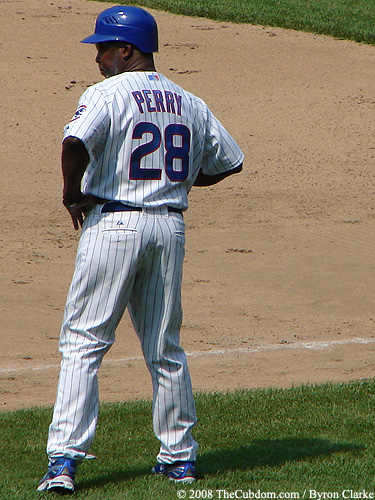 The postseason leaves me few options: jump ship, whine and moan, or hand out postseason awards. For those who want to cheer for a winner
this
year, I highly recommend joining the bidding at
A League of Her Own
's campaign to
pimp out their fan services to a team that's actually in the postseason
. But each week I'll be awarding some postseason hardware preceded by a daily rundown of the nominees. This week, it's the quest to pinpoint the worst move of the season, a herculean task if ever there was one.
Inspired by
the latest news about Von Joshua's demotion
, the first nomination might come as a bit of a surprise:
the June 15 firing of Gerald Perry as hitting coach
. The stats won't back this claim up, since the Cubs hit .246 and averaged 4.2 runs and 7.5 LOB per game
before the move
and .260 with 4.5 runs and 7.5 LOB
after Von Joshua took over
. Statistically, the move didn't make very much difference either way (certainly not enough to save Joshua's job).
But this move, in retrospect, strikes me as decidedly poor because of the way the team responded mentally and emotionally in the ensuing weeks.
Lou erupted
on the field, in the dugout, and in the clubhouse soon after. Milton Bradley produced a few more hits and runs after the switch, but a
lot
more negative headlines as well. Looking back, it's no surprise this move made both men a little extra moody.
Gerald Perry was Lou's guy. 2009 was his sixth season coaching under Lou after spending 2000-2002 as Seattle's hitting coach and the past two seasons here with the Cubs. Lou has said in interviews that clubhouse atmosphere is even more important than team chemistry. Well, Hendry's decision to fire Lou's buddy (instead of telling him to bench guys who weren't hitting) may have burned a hole in the Cubs' ozone.
Milton Bradley would agree. Gerald Perry, who coached Milton in Oakland in 2006, was
The Accursed One's biggest apologist
before the season began. It was his assurance that Bradley was an outstanding teammate that did more than any other statement to allay the fears of Cub fans (and possibly Hendry as well). Maybe that's why Hendry fired him . . . revenge for the bad advice.
All I know is, if I want to make the Cubs' clubhouse a happy place, anything that would piss off Bradley
and
Lou would be at the very bottom of my list of options. Who knows, Gerald Perry could have played
Jack Haley
to Milton's Dennis Rodman, but Jim Hendry fired the babysitter. Then Milton wound up brawling with the new one.
Bad move, Jim. Bad move. But what is the worst? You tell me.
Other Nominees:
Trading Mark DeRosa
Incessant Lineup Changes
Bullpen Design & Management
Milton Being Milton